Wed:
* Arrived at SD Marriott Marquis around midnight
* Google + Huddle (Huggle)
Thurs:
* Line for Ballroom 20 with Jul, Josh, Nick, & Shock – missed Psych panel 🙁
* Ringer Panel – interesting
* Game of Thrones Panel – awesome!
* Swag at the Fulfillment Room
* Squid, Inc Headquarters
* Con Floor
* Bucca di Beppo
* Maloney's Pub
* Drunk Emmett giggling into the night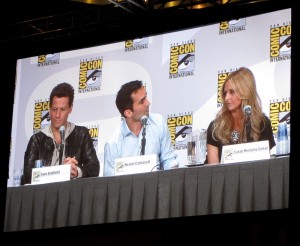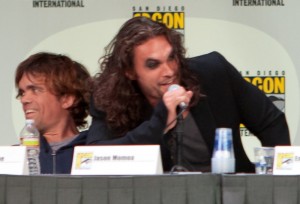 Fri:
* Con Floor – every aisle!
* Artwork purchase
* Nap
* Con Floor again
* Dinner at Indigo Grill with friends
* Drinks at the Tipsy Crow
* Drinks at the Cowboys & Aliens Saloon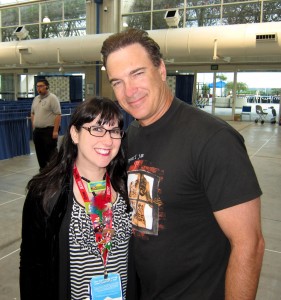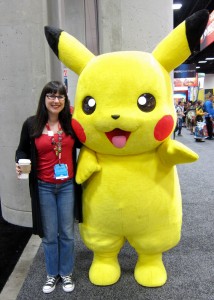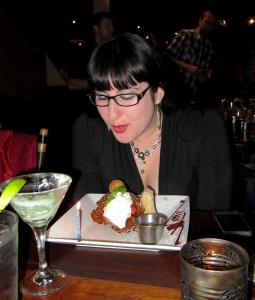 Sat:
* Line for Ballroom 20 out to the Pier
* Terra Nova Panel – suck!
* Futurama Panel – So awesome!
* Simpsons Panel – SOS
* Con Floor
* Hanging with Adrienne & friends at Squid, Inc Hdqts
* Dinner at Cafe Diem with Angelique, Heather, Ryan & John
* SyFy Red Carpet with Eureka
* Comic-Con Rave at the Sails Pavilion
* Hyatt Slamcon Industry party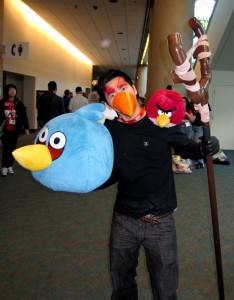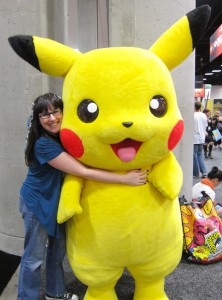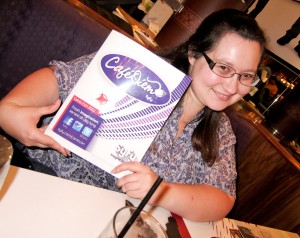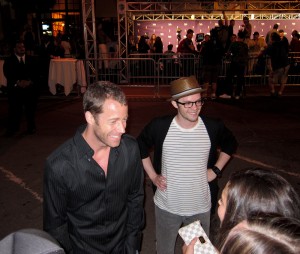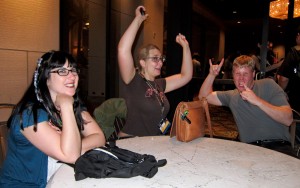 Sun:
* Pack up Squid, Inc Hdqts
* Con Floor
* Late lunch at Old Spaghetti Factory with John, Adrienne & Erin
* Left Con at 5:50pm and arrived home at 8:01pm!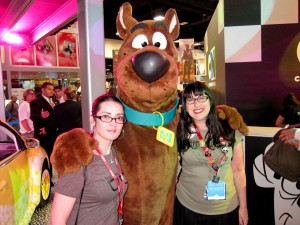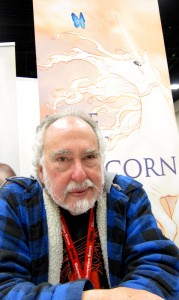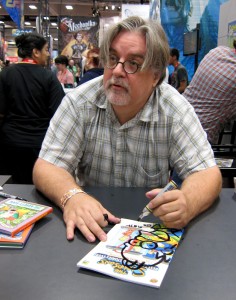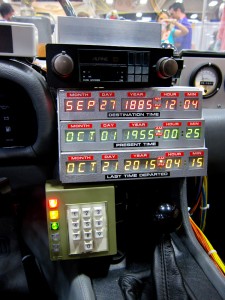 Highlights (in no special order):
* Got very little sleep. Partied and wandered around til after 1:00am every night and woke up around 8:00am every day!
* Emmett, John, Angelique & I played on Google + Huddle (Huggle) for almost an hour on Wed night! So silly and fun.
* Got most of the Wayne Casino poker chips: $5, $10, $25 & $50. Traded some Angry Birds pins for the $1 chip.. hope the guy mails it to me!
* Fox gave away Angry Bird plushes & T-shirts to fans with Angry Birds installed on their phones! I got a few!
* Dinner at Indigo Grill with many friends. Took 2 taxi vans to get there. Dinner was amazing and the company kicked ass!!!
* Loved the Game of Thrones and Futurama panels. In Futurama, Matt Groening had a draw-off with the lead artist on Futurama. Hilarious.
* Met Matt Groening and gave him my Gotharama pin that I made.
* Bought some art from Theresa Mather. She is going to make a Dagan bat cat art piece and I get the first edition!!! http://www.rockfeatherscissors.com/
* Eureka cast members, Colin & Neil, jumped the fence to say hi to fans at the Syfy Red Carpet, which we accidentally walked by. Angelique was so happy to meet them. We also got video for Erik & Ricki of them wishing them good luck with the new baby!
* Met Peter Warburton (Big Trouble) at the Sails Pavilion
* Spent some time talking with Peter Beagle & Connor (Last Unicorn)
* Tattoo & Coke at Squid, Inc Hdqt
* Ended up at an anti-Syfy industry party at the Hyatt with some pretty nice people
* Danced for a bit at the Rave at the Sails pavilion. Lots of people in costumes. Free nachos & cupcakes! Music kinda sucked, but the atmosphere was fun.
* Found Pikachu on Fri, Sat & Sun!
* WB booth area much easier to navigate than last year, except during Lego raffle
* Really awesome fantasy artists this year. Bought some art from some very talented artists!
* Best swag: Game of Thrones pack from the panel
* Best costume: lady with the death star dress & tie fighter in her hair
* Worst moment: waiting in the sun for food at the South Park food trucks
* Best moments: taking photo with Pikachu & sitting down to dinner with friends for my birthday!
* Regret: not going in our awesome looking pool at the SD Marriott Marquis
* Best luck: getting a hotel at the SD Marriott Marquis – soft, comfy beds and soooo close to Con!
* Best meal: Indigo Grill
* Worst meal: Comic-Con Cafe pizza at the SD Marriott Marquis South Tower
* Best drink: Key Lime pie martini at Indigo Grill
* Most disappointing area of Con Floor: vendors selling figures and toys. Boring.
* Best locations on Con Floor: Pokemon booth, DC booth, Fantasy Art & Artists Alley
* Adrienne drove me home and it only took 2 hours due to our secret path out of SD!
*** More pix up on my FB profile ***
Comic-Con, it was a blast! See you in 2012!!!