This past week was a whirlwind of emotion. I was happy, stressed, depressed, excited, relaxed, bored, busy, lonely, silly, drunk, energetic, frumpy, annoyed, optimistic and tired. Here's what I did:
Mon, April 26th – Exercised, watched Eps 1 – 5 of United States of Tara, studied for the CBEST, took the pre-exams for the CBEST, went to sleep early.
Tues, April 27th – Took the CBEST, had a hypoglycemic attack, but still passed the English & Math sections (waiting on the writing section to be reviewed), signed up for the CSET and looked online for classes, and went to trivia at the Bok.
Wed, April 28th – Slept in, exercised, played with the kitties, had dinner with Heather & Gavin at "There's No Place Like Home," did wedding research with Heather & Gavin for their venue in FL.
Thurs, April 29th – Slept awful, looked for work, found out that I can't get into the District Intern program this Fall, spent the day depressed and tired, felt a bit sick with a sore throat and headache, met up with Ankur at Yogurtiers to talk about CSET prep, went to sleep early.
Fri, April 30th – Went to James Madison middle to observe math classes, clipped Penemue's nails, had lunch with John & Adrienne at Taco Bell, got my hair dyed and cut, then went to karaoke at Koji's with Josef, Megg, Sandy, and John.
Sat, May 1st – Wedding in Santa Monica at 1pm, wedding in Downtown LA at 5pm, dinner with Scharff and Dorwart at Phillipe's, wandered around Chinatown, came home to get ready for Bats Day, went to bed early.
Sun, May 2nd – Woke up early, Adrienne & I drove down to Disneyland and met up with Ricki, Erik, Ryan, Heather, Josef, Mike B, Bobby, Lacey, Ashley, Mike W, Megg, Violet, Ricki's friends and their kids, and many others throughout the day.
We started off getting a fastpass for Space Mountain, then went to the Castle Meetup, then I had lunch with Sarah, Casey & Emily.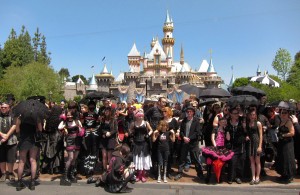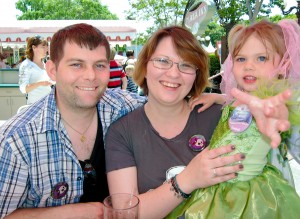 After, met up with everyone at the Pizza Port and we went to Captain EO, followed by the Matterhorn. Then, off to California Adventure to go to Tower of Terror, the Maliboomer, the Carousel, Screamin', Soarin', the wine festival, and dinner at the Sourdough Breadbowl place.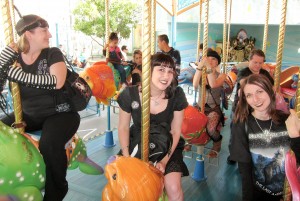 Once back in Disneyland, we went to the Haunted Mansion for the 8pm meet-up, followed by Pirates, then Space Mountain. After, Adrienne & I went on Buzz's Astroblasters and got a hot chocolate on the way out. It was a super fun Bats Day!!!